Photo provided courtesy of the University of Wisconin-Madison Archives.
Special Projects
Gard Website (2002, 2007,2016)
The Gard website (http://gardfoundation.org) was initially created upon the completion of the Gard Archives project at the University of Wisconsin-Madison and redesigned in 2007. The site brings together information and sources that were not available before, helping to link individuals interested in nurturing arts in rural communities. In 2016, the site was again redesigned to better meet flexible device needs.
Work on the the Gard Archives began in 1999 with the gathering of box after box of materials from the Gard home in Madison, Wisconsin. The Foundation Board commissioned the preparation of what turned out to be 73 archival boxes of materials. A Finding Aid was created by the University's Archives and Records Management Staff. The Finding Aid is available through this website.
Grassroots Theater (1999)
Robert Gard's important work was reprinted with a new introduction by his daughter. Grassroots Theater : a search for regional arts in America by Robert Gard ; with a foreword by David H. Stevens ; and with an introduction by Maryo Gard Ewell. Read Ewell's review.
Grassroots Theater is available from the University of Wisconsin Press.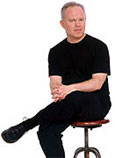 The music of composer Michael Torke is played by major orchestras across the country and abroad. It has been called "some of the most optimistic, joyful and thoroughly uplifting music" (Gramophone, 1996). In the mid-1980s, the Gard Foundation selected Torke for a music commissioning project and his composition, "Verdant Music" (now known as "Green Music") was premiered by several Wisconsin symphony orchestras. His 1998 composition, "Jasper," written for the Wisconsin Sesquicentennial, was premiered in Madison and Milwaukee. In 1997 Torke was named associate composer of the Royal Scottish National Orchestra.
Photo of Tork at right by Robin Holland.

Justin Isherwood is a sixth-generation farmer whose writing in books, essays and stories reflects his continuing interest in Wisconsin and his community. He is a member of the Wisconsin Potato Board and found 1000 Friends, a land resource design interest group. His book The Farm West of Mars was selected by the Gard Foundation in a manuscript search project in the early 1980s. In a recent book, Book of Plough, he states, "To write is to preach the gospel of belonging to the land, and by consequence your family, heritage, and community."