Photo provided courtesy of the University of Wisconin-Madison Archives.
Foundation Projects
How the Gard Foundation Chooses Projects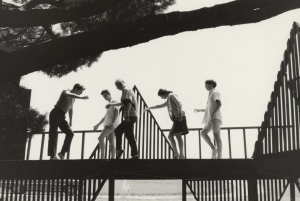 As a very small nonprofit, the Robert E. Gard Foundation chooses its projects selectively, guided by our mission, vision and vision. Given that our strategies include ensuring access to Gard's work, serving as a convener, facilitating collaborations, and identifying best practices for arts-based community development, we undertake activities that we believe create big impact with our very small budget. We are grateful to the individuals who have supported our work as well as to the organizational supporters and partners of the Robert E. Gard Foundation: Wisconsin Arts Board and the Division of Continuing Studies, the Oral History program, and Steenbock library at the University of Wisconsin-Madison, the Johnson Foundation, and Americans for the Arts.
Early projects ranged from a 1981 exhibit of emerging Wisconsin visual artists whose work interprets the Midwest, a 1982 exhibit of the work of recent Hmong, Lao, Cambodian and Vietnamese immigrants, "American Indian Voices: A Regional Literary Symposium" in 1991, helping to create the Gard archives at Steenbock Library at the University of Wisconsin-Madison, ensuring that Gard's seminal Grassroots Theater: A Search for Regional Arts in America (1955) was reprinted by the University of Wisconsin Press, and more.
Arts in the Small Community, a document created throught funding from the National Endowment for the Arts in 1966, created a big and timeless vision of the role of arts in small American communioties.
The Award for Excellence celebrates those individuals who have made a significant artistic contribution, or institutions that demonstrate excellence in nurturing arts in the community.
Find out what Gard Foundation board members are doing to bring the arts into the day-to-day lives of the people in their communities.
Robert E. Gard Reader:
PDF version – 12.3 MB (may take some time to download)
eBrary version – You will need to create a free eBrary account to download the book and to use certain features.
Robert E. Gard Reader: To Change the Face of America, From Writings by Robert E. Gard.
Edited by LaMoine MacLaughlin and Maryo Gard Ewell.
The Foundation sponsored several special projects, in areas of interest to the Foundation.
The Storytellers Circle is located on Muir Knoll on the University of Wisconsin-Madison campus. The Circle is a tribute to Robert E. Gard; storytelling is one of the skills he encouraged.